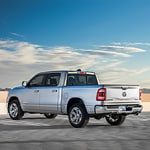 When the time arrives to purchase a new light-duty pickup truck, the popular Ram 1500 likely stands at the top of your list. The durability features often attract many consumers to the truck. Unlike other light-duty models, the Ram 1500 can handle difficult environments and tough jobs.
With a frame made from 98% high-strength steel, it is difficult not to call the Ram 1500 one of the most durable models on the road. And it preserves its durability when leaving Jennings to travel off-road. Tow or haul cargo anywhere, thanks to the Ram 1500's toughness.
Advanced airbags lend support to the steel frame in the event of a collision. Drivers and passengers wish to feel safe, and Ram works hard to deliver results. Various other safety features prove this to be true.
Discover why the Ram 1500 has such a popular following. Visit Sterling Chrysler Dodge Jeep Ram to set up a test drive with one of these incredible pickups.